Description
Wagner Tuning VAG MK5 MK6 GTI R 2.0 TFSI TSI Competition Intercooler Kit – 200001034
The Wagner Tuning Competition Intercooler a core size of 610mm x 440mm x 65mm providing a 10% larger frontal area and 50% more volume compared to the factory intercooler.
The Wagner Tuning Competition core with high cooling performance and light weight (9.2kg). Optimised by CAD, the new Wagner Tuning Competition core and cast aluminium endtanks give this intercooler excellent cooling properties. Flow analysis and simulations were created to optimise the design for best possible internal airflow. This intercooler is the best choice when it comes to performance gains and low intake temperatures. A lot less pressure drop then OEM intercooler. Anti corrosion protective coating with perfect thermal heat dissipating character. Optimal cooling with clearly more power.
Kit is ready for installation, 100% perfect fit. Fitment is easy, replacing the OEM intercooler. All of our products undergo rigorous quality control. Including TÜV certificate.
The latest v2 revision 200001034's new features:
-CNC machined hose connection for maximum pressure stability.
-Internal air guide inside the endtank for uniform air distribution.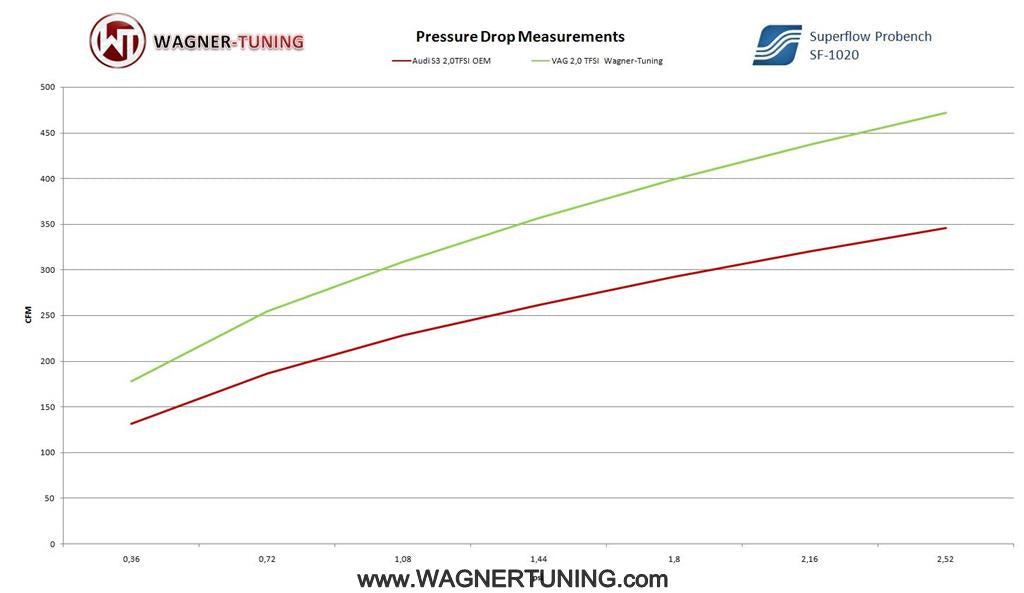 This Intercooler Kit Suits:
• Audi A3 8P 1.8 TFSI 118kW (2007-2012)
• Audi A3 8P 2.0 TFSI 147kW (2004-2012)
• Audi S3 8P 195kW (2006-2012)
• Audi TT 8J 1.8 TSI 118kW (2008-2014)
• Audi TT 8J 2.0 TFSI 147-155kW (2006-2014) (does not Fit cars with Engine Code CETA & CESA)
• Audi TTS 8J 200kW (2008-2014) (does not Fit cars with Engine Code CETA & CESA)
• Volkswagen Golf 5 GTI (incl. ED 30) 147-169kW (2004-2008)
• Volkswagen Golf 6 GTI (incl. ED 35) 155-173kW/211-235PS (2009-2013)
• Volkswagen Golf 6 R (incl. Cabrio) 199kW (2009-2013)
• Volkswagen Scirocco 3 2.0 TSI 147-162kW/200-220PS (2008-2015)
• Volkswagen Scirocco 3 R 195-206kW (2009-2015)
• Volkswagen EOS 2.0 TFSI 147kW (2006-2009)
• Volkswagen EOS 2.0 TFSI 155kW (2009-2014)
• Volkswagen Jetta 5 2.0 TFSI 147kW (2005-2010)
• Volkswagen Jetta 6 2.0 TSI 147-155kW (2010-2014)
• Volkswagen Passat B6 1.8 TSI 118kW (2007-2010)
• Volkswagen Passat B6 2.0 TSI 147kW (2005-2010)
• Volkswagen Passat B7 1.8 TSI 118kW (2010-2012)
• Volkswagen Passat B7 2.0 TSI 155kW (2010-2014)
• Volkswagen Passat CC 1.8 TSI 118kW (2008-2012)
• Volkswagen Passat CC 2.0 TFSI 147kW (2008-2010)
• Volkswagen Passat CC 2.0 TSI 155kW (2010-2014)
• Volkswagen Beetle 2.0 TSI 147-162kW (2011-)
• Skoda Octavia 1Z 1.8 TSI 118kW (2008-2013)
• Skoda Octavia 1Z MK2 RS 147kW (2005-2009)
• Skoda Octavia 1Z MK2 RS 155kW (2009-2013)
• Skoda Suberb 3T 2.0 TSI 147kW (2010-2013)
Package Includes:
1 Intercooler
2 Silicone Hoses
4 Hose Clamps
1 Aluminium Adapter
1 Installation instructions
1 TÜV certificate